College Bans National Anthem
http://www.foxnews.com/on-air/fox-friends/index.html#/v/982496548001/college-bans-national-anthem/?playlist_id=86912?test=faces
or this from
CNN.com
Soldiers' $2,800 in bag fees spark outrage
June 8, 2011 12:18 p.m. EDT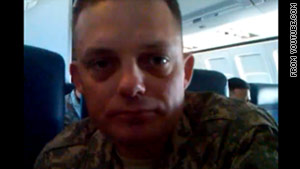 One of the men featured in the YouTube video said he was "not happy at all" about the experience.
STORY HIGHLIGHTS
Incident sparks outrage after soldiers speak out in a video posted on YouTube
The men say they had to pay out of pocket for fourth piece of luggage
The men say it happened on a flight a day after they returned from Afghanistan
Delta: Active-duty U.S. military personnel can check up to three bags in coach for free
(CNN)
-- Delta Air Lines says it's sorry "for any miscommunication" after U.S. Army soldiers returning from Afghanistan complained that they were charged almost $3,000 in bag fees by the carrier.
The incident has sparked outrage online after the servicemen spoke out about their experience in a
video posted on YouTube
.
In the clip -- which the men say was recorded on board a Delta flight from Baltimore to Atlanta on Tuesday, a day after they returned from Afghanistan -- the soldiers explain they had "a little issue with the bags."
CNN affiliate WXIA in Atlanta
identified the soldiers as U.S. Army Staff Sgts. Fred Hilliker and Robert O'Hair.
The men, who were bound for Fort Polk, Louisiana, said their military travel orders allowed them to carry up to four bags, but when they arrived at the airport in Baltimore, Delta told them it allows military personnel to check only three bags for free.
Members of the unit who were traveling with four bags ended up paying out of pocket for their extra luggage, the soldiers said in the video. They were charged $200 per extra bag, so the 34-member unit ended up paying more than $2,800 in bag fees, the soldiers added.
Any extra bag fees charged by an airline will be reimbursed by the government,
a military spokeswoman told CNN affiliate WGCL in Atlanta
.
One of the soldiers in the video said the bag he had to pay for was a weapons case that contained "the tools that I used to protect myself and Afghan citizens while I was deployed in the country."
The other man then looked into the camera, exasperated.
"Good business model, Delta," he said sarcastically. "Not happy, not happy at all," he added, shaking his head.
After online commenters called Delta everything from "un-American" to "disgusting" in response to the video, the airline scrambled to explain the incident.
On its blog
, the carrier said it deeply respects and admires men and women in uniform and added that it has worked hard to ensure that U.S. military personnel get "additional flexibility" when they travel on the carrier.
Delta explained that active-duty U.S. military personnel traveling on orders can
check up to four bags in First/Business class and three bags in coach for free
on both domestic and international flights.
Other airlines, like United and US Airways, have similar policies.
"We would like to publicly apologize to those service men and women for any miscommunication regarding our current policies as well as any inconvenience we may have caused," wrote Rachael Rensink, manager of Delta Social Media.
The carrier said it will be reaching out to each soldier personally to "address their concerns and work to correct any issues they have faced."
The soldiers may have been misinformed about how many bags traveling active duty military personnel can check for free,
Stars and Stripes reported
.